It's almost President's Day, so how about a day trip to the birthplace of our thirty fourth president? World War II hero and President, Dwight D. "Ike" Eisenhower was born in Denison, Texas.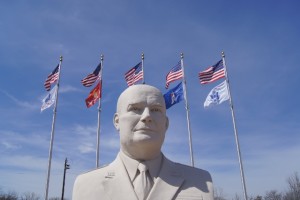 Located just 70 miles north of Dallas near the Oklahoma border, Denison thrived as a railroad town in the 1880s. Eisenhower's father, David, came to Denison to work for the Missouri-Kansas-Texas (KATY) Railroad in 1889. David and his wife, Ida, already had two boys. Dwight, their third child, would be born in 1890. The Eisenhowers lived in Denison only three years, returning to Kansas when Dwight was just a toddler. Ironically, Dwight Eisenhower did not even know he was born in Denison until mid-life. A Denison teacher, Ms Jennie Jackson, thought she remembered the Eisenhowers, and discovered the family's link to the town by combing through old city records. Following World War II, the local community bought the house where Dwight Eisenhower was born and that his family had rented while living in Texas. Eisenhower visited Denison for the first time as an adult in 1946 having breakfast with community leaders and Ms Jackson at his birthplace home.
The Texas Historical Commission now operates the site. The Dwight D. Eisenhower Library and Museum, in Abiliene Kansas, houses the presidential papers and almost all presidential artifacts. However, Eisenhower's Birthplace in Denison has a small collection of Eisenhower memorabilia including a painting by the President. A film in the visitor's center provides a short history of President Eisenhower's life and legacy. The docent-lead tour is well worth the admission cost. The knowledgeable guides paint a picture of Denison life in the 1890s, and shares a wealth of information about the challenges Eisenhower's parents faced in those early years when David, Ike's father, worked for the KATY railroad.
Near the Eisenhower's home, a larger than life bronze statue stands atop a marble base. This is one of four Robert Dean sculptures of Eisenhower in military uniform. The other three statues are at West Point, the London Embassy and at his presidential library in Abilene.
Eisenhower's Birthplace (609 S. Lamar, Denison, 903/465-8908) is open Tuesday through Saturday from 9:00 a.m. to 5:00 p.m., and on Sunday from 1:00 until 5:00 p.m. Admission is $4 for adults and $3 for students. There are picnic grounds next to the visitors' center.