If you are looking for a local adventure, how about a Waco Day Trip?  Waco, located about 100 miles south of Dallas, has fun and unique museums to explore.  Two of my family's favorites are the Dr. Pepper Museum and Texas Rangers Hall of Fame Museum.
Dr. Pepper Museum and Free Enterprise Institute
"I'm a pepper. He's a pepper…Wouldn't you'd like to be a pepper, too?"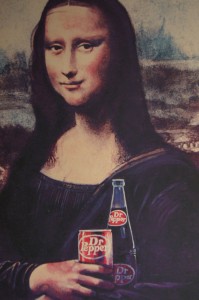 Remember that jingle from the 1970s Dr. Pepper commercial?  That and even more Dr. Pepper advertising are displayed at Waco's Dr. Pepper Museum and Free Enterprise Institute.  The first two floors are devoted to Dr. Pepper, its founders, how it was made, and how it was sold.  The museum is a must for Dr. Pepper fans.
Dr. Charles Alderton created the beverage back in 1885 at a drugstore in Waco by experimenting with different fruit syrups and carbonated water.  Who knew his concoction would be around 125 years later?
Once the Artesian and Manufacturing Bottling Company, the museum is located right where Dr Pepper was bottled at the turn of the twentieth century.  A portion of the first floor recreates both Morrison's Old Corner Drug Store where Alderton served the drink.
Dr. Pepper is now marketed and sold by the Dr. Pepper Snapple Group, so it's not surprising that the museum also has memorabilia from other soda brands like Orange Crush and 7 UP.
The museum's third floor is dubbed the Free Enterprise Institute.  Aside from a few sayings by Adam Smith, visitors will not find the history of capitalism here.  Rather, the bulk of the exhibits are about W. W. "Foots" Clements.  Clements rose up through the Dr. Pepper ranks from delivery man to CEO.
Be sure to get your Dr. Pepper at the soda fountain before you leave.  Served hot (yes, hot) or cold, the drink is mixed from syrup and carbonated water, much like it would have been served by Dr. Alderton in 1885.
The Dr. Pepper Museum and Free Enterprise Institute (300 South Fifth Street, Waco) is open Monday to Saturday from 10 a.m. to 4:15 p.m., and on Sunday from noon to 4:15 p.m.  Admission is $8 for adults and $5 for children.
Texas Rangers Hall of Fame Museum
Formed in 1823 by Stephen Austin as a defense force to protect settlers, the Texas Rangers loom larger than life in our imaginations.  The Texas Ranger Hall of Fame Museum is dedicated to the finest of these lawmen.  The first Texas Rangers were farmers committed to frontier defense.  It was after the Civil War that Texas Rangers shifted to law enforcement and tracking down "bad" guys.
The Texas Rangers Hall of Fame recounts the tales of many of its most famous rangers, like Captain William McDonald whose reputation made him known as the "man who would charge hell with a bucket of water."  The museum tells the tales of these men with factual accounts, artifacts and anecdotal tales.
It's the tales that are the most fun, like the one about McDonald  – A frontier town hosting a prize fight sent a plea to the Rangers for help keeping the peace.  The town fathers were appalled when one single Ranger, McDonald, arrived.  McDonald is purported to have responded, "You only got one prize fight.  You only need one Ranger."
While few in number, these western lawmen figured prominently in keeping the peace including resolving border issues with Mexico from 1870s through early 1900s, and it's the Rangers Texas turned to hunt down bootleggers and gangsters in the 1920s and 1930s.  It was a Texas Ranger, Frank Hamer, who tracked down and shot the famed gangsters Bonnie and Clyde in 1934.
Most of the museum focuses on real Texas Rangers, but one section is dedicated to our fictional heroes.  An exhibit, complete with biography, tells the tale of the Lone Ranger who captured the imagination of many young boys from 1933 and onward.  Dozens of movies have been about the Texas Rangers not to mention several TV series like Walker Texas Ranger whose reruns entertain us today.
A 45-minute film about the Texas Rangers' history is well worth the time, and runs throughout the day in the museum theater.
The Texas Rangers Hall of Fame Museum (100 Texas Range Trail – I-35 exit 335B, Waco) is open seven days a week from 9 a.m. until 5 p.m.  Admission is $7 for adults and $3 for children.