What do turkey legs, knife throwing acts, wenches, and men in tights all have in common?
They're all things you'll find at the Scarborough Renaissance Festival.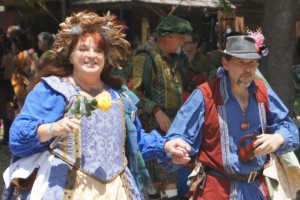 Held on weekends from April through May, the festival combines high fantasy and courtly adventure, offering visitors an opportunity to enter a whimsical realm. Staged around sixteenth century England, Scarborough Renaissance Festival has a little something for everyone. You can ride a camel, engage in a sword fight, and  enjoy wine tasting at the Vinery. The entertainment is top notch. Be sure to catch Don Juan and Miguel who bill their show as sword fighting, comedy, and romance. These two have performed at Renaissance festivals for almost three decades. The Star Dancers are another crowd favorite, but be careful as you may find yourself onstage and part of the belly dancing.
Visitor tips
Buy a program. If you purchase nothing else, buy the souvenir program. It contains all the information you'll need for the day including performance times, craft demonstration locations, and information on all the eateries and merchants. Best of all, there'll be a map.
Dress the part. First, you don't have to wear a costume to enjoy the festivities. However, the festival is the ideal place to wear that kilt in your closet, medieval Halloween costume, or leftover Harry Potter wizard cape. Visitors can also rent costumes inside fair grounds. And festival merchants sell everything from medieval robes to belly dancing outfits, though you'll pay a hefty price for your attire. As for the kids, flower hair wreaths, fairy wings, and wooden swords are big hits with the youngsters.
The festival employs a troupe of paid, costumed actors. The actors set the stage. But it's the costumed visitors who make for the best people watching.
Eat like a king. Within the festival grounds, food purveyors sell everything from turkey legs to baked potato. You won't go hungry but you can expect to pay as much to eat as you did for your admission ticket. While you can't bring outside food into the parks, one economical way to get around the high prices is to enjoy a tailgate picnic back at your car. Just be sure to get your hand stamped for readmission.
Bring dollar bills. Yes, admission includes entertainment on half a dozen stages along with smaller acts scattered around the village. However, expect the performers to pass the hat (or hat facsimile) around for tips following every performance. Tipping is optional. But these folks work hard for minimal wages, and some of the smaller acts working entirely for tips. If you liked the act, tip the performer a buck or two.
Wear sun protection. Don't forget your sun screen. Texas can be hot even outside the summer months. A hand fan or paper umbrella work well to cool you down or provide a little shade.
When you go.
Scarborough Renaissance Festival is in Waxahachie at 2511 FM 66 (just off of Interstate 35). The festival operates Saturday and Sunday, from 10 a.m. until 7 p.m. For the best price on admission, purchase your tickets online or visit your local Kroger for discounted tickets. Adult admission begins at $22 and children's admission begins at $9. Visit the festivals website at www.srfestival.com for more information.