It's bat time at Old Tunnel State Park!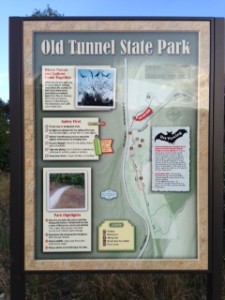 If you plan a summer visit to Texas Hill Country, be sure to reserve an evening for nature. In this case, viewing the night exodus of three million Mexican free-tailed bats from an old railway tunnel near Fredericksburg.
Mexican free-tailed bats
The bats arrive in March from their winter homes in Mexico. Two different types of colonies form: smaller male bat colonies, and larger maternity colonies like the one you'll find at Old Tunnel. The mother bats give birth in June to a single bat pup. By August, the pups join their moms in the nighttime flight for food. It's during August and September you'll experience the most massive emergences.
Aerial river
The little Mexican free-tailed bat is less than five inches long and weighs about 14 grams (that's just half an ounce). By itself, a bat is a tasty bite to its predators, hawks and owls. By emerging en masse, the bats increase their odds against the birds lying in wait outside the tunnel opening. For onlookers, we see a streaming black river flowing under the tree canopy as the little critters make their way south towards the Guadalupe River. Viewing a bat emergence is a must on any nature lover's bucket list. My husband and I were transfixed in awe as the river of bats continued for almost ten minutes, and intrigued by the scent left in the bats' wake. Yes, you can smell the bats! It's like an umami scent.
Bat viewing tips
Old Tunnel has two viewing areas. You'll have the best experience from the lower level. However, space is limited. To ensure a lower viewing spot, be sure to arrive at Old Tunnel at least half an hour before the earliest posted emergence time. The lower level is only open Thursday through Sunday.
The upper viewing area is also a wonderful option. This area is free and available seven days a week. Be sure to bring a set of binoculars if viewing from the upper level. On Thursday through Sunday, a docent talk is given at both viewing locations. The docents are exceptionally good and full of great bat trivia.
Alamo Springs Café
Why not have dinner before seeing the bats? Texas Monthly bestowed "third best burger in Texas" fame to Alamo Springs Café, located adjacent to Old Tunnel State Park. It's a funky café that looks like a house with a few too many additions on it. We ate there on a Saturday night and were treated to tunes from a local band. The café and patios are packed at dinner time, so be patient. The service is friendly and efficient. The burgers are great, but my favorite were the onion rings….awesome!
When you go
Old Tunnel State Park is at 10619 Old San Antonio Road, Fredericksburg. Lower area viewing is $5 a person (the upper viewing is free). Bats don't use alarm clocks, so you need to call the Old Tunnel hotline at (866) 978-2287 to get the latest emergence time. Alamo Springs Café is at 107 Alamo Road. The café is open 11 a.m. to 10 p.m., Wednesday through Sunday. There are also a few outdoor tables at Old Tunnel if you want to bring your own picnic.
Be careful driving home. The area is chocked full of deer, we almost hit a buck making our way back to Fredericksburg.
Tip
Frankie the Free-tailed Bat is a cute book for older kids. It's loaded with information about the bats. You can download a free copy courtesy of Texas Parks and Wildlife.