Calling all North Texas dinosaur lovers and would-be-paleontologists! While you wait for the DVD release of Jurassic World, why not check out two local dinosaur (and mammoth) venues?
Dinosaurs Live!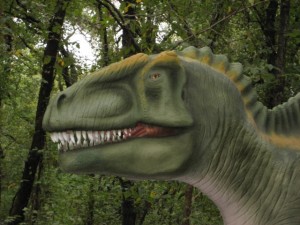 Beware! Beasts not seen for millions of years stalk the Heard Natural History Museum and Wildlife Sanctuary in McKinney from now through mid-February. Dilophosaurus, Stegosaurus, and the infamous Tyrannosaurus Rex roam the trails at the wildlife sanctuary – almost like Jurassic World. These life-sized replicas roar and move delighting young dinosaur enthusiasts.
Billings Production in McKinney makes the animatronic creatures. The Heard dinosaurs are part of over 200 Billings' dinosaurs found at zoos and museums throughout North American. The robotic dinosaurs are uniquely adapted to operating outdoors. A hinged steel structure within the fabricated body allows dinosaur heads and limbs to move. A computer program further enhances dinosaur movements, making these monstrous creatures look and act almost real — Jurassic Park Texas style.
While the dinosaurs draw the crowds, there is much more to the Heard Natural History Museum and Wildlife Sanctuary. Once you've explored the dinosaur trek, take a stroll through The World Conservation exhibit to see modern day animals. Some animals are native to North America and others like the lemur are from exotic locales. Many exhibit animals imprinted with humans and can't be released into the wild. Seized from an illegal animal breeder, some animals found new homes at the wildlife sanctuary. There are mongoose and capybara, the world's largest rodents. An albino raccoon found a home here too.
The Heard Natural History Museum and Wildlife Sanctuary is open Monday through Saturday from 9 a.m. until 5 p.m., and on Sunday from 1 until 5 p.m. Pets are not allowed in the sanctuary and there is an admission fee. The trails around Dinosaurs Live are accessible with a stroller, however all trails within the sanctuary are on natural, unpaved surfaces — challenging for wheel chairs and strollers. Picnic areas are available. The Heard Natural History Museum and Wildlife Sanctuary is at 1 Nature Place in McKinney. Contact them at 972-562-5566 or through their Dinosaurs Live website.
Waco Mammoth National Monument
This past week, a mammoth found in a Michigan farmer's field gained national attention. But, did you know that one of the largest herds of mammoth ever discovered in North America is right here in North Texas?
Visit Waco Mammoth National Monument and travel back in time 68,000 years. It's the Ice Age but without the ice. Instead, grassy plains cover North Texas; and ice age animals like the Columbian mammoth, camel, and saber-tooth cat wander the grasslands.  A nursery herd of mammoth (cows and calves) peacefully graze along a creek bed until a flash flood buries the entire herd. Fast forward to 1978 when two teenage boys, looking for arrowheads, spot a bone embedded in the dry creek bed. The boys' find yielded the largest nursery herd of Columbian mammoth (19 mammoths and a camel) ever discovered.
Baylor University paleontologists worked the site for years, uncovering mammoth from three separate floods that trapped these prehistoric animals over thousands of years. The Baylor scientists have found over two dozen mammoth, camels, and a young saber-tooth cat.
Baylor University and the City of Waco opened the Waco Mammoth Site to the public in 2009. Just this summer, the mammoth site became a National Monument. Docent-led tours give visitors fascinating facts about Ice Age Texas and its inhabitants. You also gain insights into a paleontologists' world. While most bones were jacketed and transported for further study, many have been left in place. A climate-controlled building surrounds the dig site and a boardwalk pathway winds through the building allowing visitors to see mammoth bones as they were found. Tiered excavations stair-step the dig site displaying finds from all three major flood events. Wall murals illustrate the Colombian mammoths' size and appearance.
The visitors center and dig site are located within a scenic parkland along the banks of the Bosque River. The Waco Mammoth National Monument is at 6220 Steinbeck Bend Road in Waco. The site is open Tuesday through Friday from 11 a.m. to 5 p.m., and Saturdays from 9 a.m. to 5 p.m. There is a fee for the guided tour.
You can find more Waco attractions at our Waco Day Trip post.