The Sam Houston statue at Huntsville puts an exclamation point on the saying everything is bigger in Texas. The 65-foot statue towers alongside Interstate 45, between Dallas and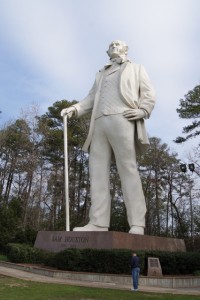 Houston. Looking distinguished in topcoat, colonial wig, and with his walking stick, Sam Houston dwarfs the surrounding pine trees. If you have the opportunity, stop and pay the old gent a visit.
The City of Huntsville purports that Sam is "tallest free standing statue of an American hero." President of the Republic of Texas and later Governor of the State of Texas, Sam Houston played a pivotal role in Texas' early history. What you may not have known, is that the Texas hero spent the last two years of his life in Huntsville. The Texas fore father is buried in nearby Oakwood Cemetery (Avenue I and Ninth Street, Huntsville).
Titled Tribute to Courage, the monument is the work of Houston based artist David Adickes. The statue statistics are impressive. It weighs about 32 tons, stands on a 10-foot marble base, and is the second largest freestanding statue in Texas. Surprisingly, the statue is only 20 years old, installed in 1994. Adickes built the concrete and steel Houston in ten-foot segments. One head segment not used in the final statue, can be seen on the grounds. It's a great location for a picture!
When you go
Take Interstate 45 exit 109 or 112. The Sam Houston statue is accessed through the visitors center whose hours of operation are Monday to Friday from 9 a.m. to 5 p.m.; Saturday 10 a.m. to 5 p.m.; and Sunday 11 a.m. to 5 p.m. Be sure to bring your camera!