McKinney has made a name for itself as an art community in North Texas.  McKinney's Second Saturday Art walks are well established with late night, gallery openings and musical entertainment throughout the old downtown area.
You don't need to wait until evening to get your dose of creativity in November.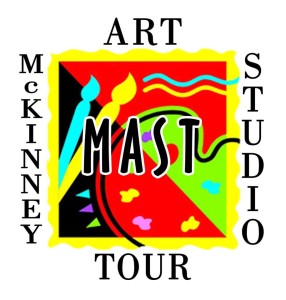 The McKinney Art Studio Tour (MAST) coincides with Second Saturday weekend on November 14 and 15. An annual event, MAST showcases local artists' studios and galleries.
MAST allows the community a glimpse into the life of artists living in McKinney neighborhoods.  This year's studio list includes photographers, potters, painters, and print makers giving tour participants an eclectic sampling of local talent.  If you like what you see, many artists will have work available for sale.
MAST not only gives the public a chance to meet artists, it also provides a forum for local artists to network.  The MAST focus is on community – introducing neighbors to each other.  Whether you are an artist, art lover, or just curious, MAST affords tour participants a rare opportunity to see studios not normally open to the public.  You'll be surprised by the depth and breadth of artistic expression in McKinney.  Both individual studios and studios offering classes will be open for tour.  The MAST website gives detailed information on each participant and map with studio locations.