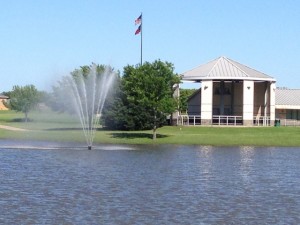 In our quest to explore attractions and seek out the unusual, we sometimes forget to look in our own backyard. Bethany Lakes Park falls into that category of overlooked gems. Like any good community park, Bethany Lakes has a playground with small climbing wall for the little kids. There are covered and open picnic areas, and trails to hike and bike. Bethany Lakes Park offers even more with a disc golf course, fishing ponds, and summer concert series.
Disc golf
How about a round of golf? At Bethany Lakes, you'll find a nine-hole disc golf course. Similar to traditional golf, you play disc golf with a Frisbee instead of club and ball. You throw your disc from the tee, aiming it for the 'hole.' At Bethany Lakes, the hole is a raised pole with a chain basket. Just like in golf, your score is the number of throws it takes to land the disc into the basket.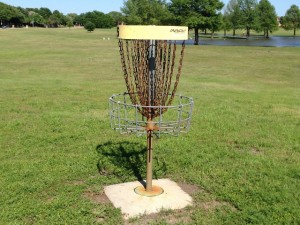 It's more difficult than it first looks, as many holes require throws over or near water. The first tee is just north of the parking lot. Bring plenty of Frisbees as you might lose a few in the ponds!
Ponds make all the difference
The ponds, and what's swimming in the ponds, differentiate Bethany Lakes from other community parks. On any given day, you'll likely find fisherfolk casting their line into one of the parks four ponds. Many set up camp chairs along the water's edge. Others fish from the fishing pier at Pond C.
Each year, Texas Parks and Wildlife Department (TPWD) stock Bethany Lake with rainbow trout. Most trout stocking occurs between December and March. The trout fishing is best during the cooler months. However, you aren't restricted to just trout at Bethany Lakes. Other ponds contain blue gill and bass, with fishing even during warmer months. TPWD fishing rules apply at Bethany Lakes. While the ponds are not exclusively 'catch-and-release,' you're unlikely to snag a big enough fish to eat, so please release your catch.
Fishing Tips
Did you know that kids under 17 do not require a license to fish in Texas? Or that the first Saturday in June is Free Fishing Day, when everyone can fish in Texas without a fishing license? Fishing is a great way to get the kids off the couch and outdoors. Here are some tips for first time family fishing:
Keep the equipment simple. Little anglers need a child-sized fishing pole, hook, bobber and easy bait like earthworms dug from the garden.
Think safety. Position children at least a pole length apart for safe casting.
An adult should bait the hook and remove fish for young children.
Combine other activities with fishing.  A short fishing trip coupled with a picnic will likely be more successful than a marathon fishing session.
If you want fishing tips specific to Bethany Lakes, check out a website by fisherfolk at www.stockertroutfishing.com. You can find out what fish have recently been caught and with what type of lures.
Summer Sounds
The City of Allen hosts Monday evening outdoor concerts from late May to the end of June at Joe Farmer Amphitheater in Bethany Lakes Park. Concerts cover all music types from classical to country. What a great way to enjoy a summer evening — and best yet — the concerts are free! Light refreshments and snow cones are available for purchase. While the city does not prohibit lawn chairs, they prefer blanket seating for concert goers.
When you go
Bethany Lakes Park is located at 745 South Allen Heights, Allen. Operated by the City of Allen, the park is open dawn to dusk. The Summer Sounds concert series begins May 25 and runs through June 22. Concerts begin at 7 p.m.