Sundance Square in Fort Worth is well worth a visit – even if you live in Dallas.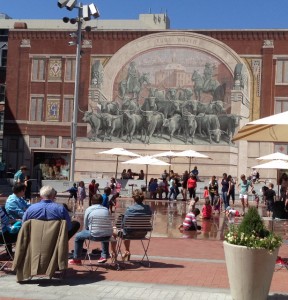 With so many people living in suburbs, city downtown areas often fall into decline. Dallas and Fort Worth are two cities bucking this trend by providing places for people to gather. Dallas has Klyde Warren Park, and Fort Worth has Sundance Square.
Anchored by the Bass Performance Hall, Sundance Square sports comedy clubs, jazz nightspots, and theater groups, not to mention the annual Lone Star Film Festival held every November. Shopping, dining, urban living, and hotels – Sundance Square has it all.
Sundance Square Plaza
Completed in November 2013, Sundance Square Plaza adds an almost European dimension to the Sundance Square scene. Outdoor seating surrounds a jetted fountain on the west side of the plaza. More than 200 jets shoot water into the air on a random schedule. Kids love it. They gleefully wait in anticipation for the water entertainment. Yes, kids can play in the zero-depth fountain (normally from 2 to 6 p.m.). There are some rules: no animals, street clothes only, and no pool toys.
On the east side of the plaza, you'll find a cloud of four gigantic umbrellas sheltering outdoor tables from the sun. The 80-foot umbrellas, while immensely practical, have the elegance of an beautifully designed sculpture. At night, LED lighting illuminates the canvas ceiling.
Free Entertainment
With a new plaza, Sundance Square is the perfect spot for outdoor entertainment. A free, Sunday jazz series runs every other Sunday, through the end of June. Music starts at 3 p.m. Then on Wednesday evenings this summer, come by the square at 8:30 p.m. for a family movie shown in the plaza.
The Flying Saucer
What could be better than burgers and beer? How about burgers, beer, and bands? The Flying Saucer (111 East Third Street) has an outdoor stage that draws a crowd from within the restaurant's outdoor patio and from people strolling Third Street. A beer emporium, the Flying Saucer has over 200 different beers on tap.
The Bird Café
The Bird Café (115 East, Fourth and Commerce) is a new restaurant opened following renovations to Sundance Square Plaza. The Bird Café has extensive patio seating facing the plaza, and indoor seating in the historic Land Title Block building. Decorated with bird prints from artists Scott and Stuart Gentling, the restaurant's interior adds to the dining experience. The Gentling brothers toured Texas painting native birds in a style similar to that of naturalist John James Audubon. Bird Café sources many of its ingredients locally. The café offers some unique items such as quail and rabbit, along with more pedestrian choices.
Sid Richardson Museum
The Sid Richardson Museum (309 Main Street) is a unique little museum tucked in among Main Street storefronts. Richardson was a Texas oilman who made his fortune in the 1930s. The museum displays his collection of Frederic Remington and Charles Russell artwork. Western art is not normally my favorite, but I thoroughly enjoyed this small gem of a museum. A detailed guide gives you the story behind each painting. The museum is free.
When you go.
Sundance Square spans 35 city blocks. It supports a host of businesses, restaurants, shopping, entertainment, and even a radio station (The Ranch, 95.9 FM). The architecture is an eclectic mix of modern, in some cases, high-rise buildings; and early twentieth century architecture. Parking is available in three large garages: Garage 1 (Commerce and First Street), Garage 2 (Calhoun and Third Street), and Garage 3 (Taylor and Third Street). Parking is expensive on weekdays, but free on weekends and after 5 p.m. There are so many unique shops and wonderful restaurants that I can't list them all here. I hope you enjoy wandering the streets and exploring the shops as much as I did. Be sure to take time to relax in the plaza.

Copyright secured by Digiprove © 2015