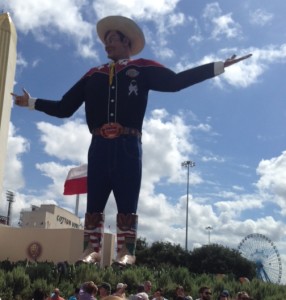 Big Tex is back! Yes, it's time for the Great State Fair of Texas.
Fair Park in Dallas is alive with midway games, amusement rides, fair food, livestock shows, and exhibits. Old favorites return and new exhibits have been added.
Old favorites
I love the animals at the fair. Tucked in the back corner of Fair Park by Gate 12, you'll find the cattle, swine, and horse barns. It's all about traditional fair events with young people showing off their prize livestock. Want to see more farm animals? Check out the Lone Star stampede and pig races in the Pan Am building.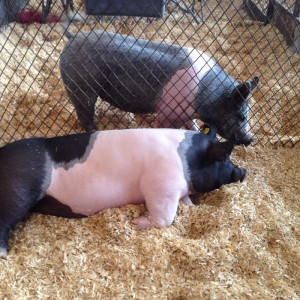 Fried food is everywhere. Personally, I'm quite content to give a pass to fried jello. However, I wholeheartedly recommend a Fletcher's corn dog…even if you need to stand in line. Fletcher's is located next to Big Tex, so be sure to get your photo of the iconic Texan while there.
New exhibits
Who would associate Michelangelo with the State Fair of Texas? This year, the Women's Museum building is the site for an exhibit featuring full-sized reproductions of the Michelangelo's Sistine Chapel paintings. These panels give an up-close view of the famous ceiling. There is an $8 admission fee.
Hard to please pre-teens may enjoy the Taylor Swift Experience, a collection of Taylor Swift memorabilia on display in the Hall of State building. All ages will enjoy the pogo stunts of Xpogo.
Insider tips
Tickets, rides, and food….it all adds up to big bucks when you visit the fair. You can save on tickets by purchasing them online or in advance at Walgreens or Kroger. Better yet, visit the State Fair on a discount day. Bring four cans of food for the North Texas Food Bank on Wednesdays and purchase your ticket for just $4. Even better, if you are 60 years old or more, visit the fair for free on Thursday.
Thursdays are not only free to seniors, but many concession vendors offer discounted food for Thrifty Thursdays.
To avoid crowds, consider a weekday visit to the State Fair. You'll get the same great fair experience with less hassle.
Need to cool off on a hot day, the Hall of State, Automobile building, and many other buildings are blissfully air conditioned and wonderful ways to escape the heat.
Limit your time at the midway. Rides and games can be an expensive. Instead, take advantage of free entertainment. Special activities for kids are set up around the Pan Am Arena.
The Great State Fair of Texas continues until October 23.