Nothing says adventure like spending a night out in the wilds, even if those wilds are located just a few miles from home. While our northern neighbors camp during the summer months, spring and fall are the best times to pitch a tent in North Texas.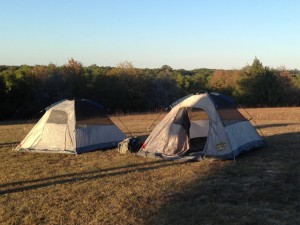 The spring floods closed many local camping spots. However, you can still camp at two, city-run parks. Erwin Park is best suited for those who want a more rugged camping experience, and Little Elm Park works well for families with small children.
Erwin Park
Located in north McKinney, farm fields border this green space. The 212-acre park is a favorite campsite for local Scouting groups. If you are a mountain biker, you'll love this area. Erwin Park sports almost nine miles of mountain bike trail maintained by Dallas Off Road Bike Association. Camping areas with covered picnic pavilions (there are three) require payment and advance registration. There are also numerous, smaller campsites with fire pits ideal for families and small groups.
The park has two restroom facilities (no showers) at picnic pavilion areas. From November to March, the city secures water to the park to prevent pipes from freezing. You can still camp during that time, but there are no toilet facilities.
When you go
Erwin Park is at 4300 County Road, McKinney. Operated by the City of McKinney, you can reserve a picnic pavilion by calling (972) 547-2690.
Little Elm Park
Little Elm Park is one of the least expensive camping locations on Lake Lewisville. The park not only has campsites, but also sand volleyball, baseball fields, and a swim beach. A newly opened playground is sure to be a hit with your pint-sized campers. Hiking trails are limited, though you will find a paved, one-mile trail ideal for strollers at the north end of the park.
When you go
The park is operated by the City of Little Elm and is located at 701 Eldorado Parkway. Camping is $5 a night per tent. You can pay for overnight camping at the kiosk in the parking lot. For more park information contact the city at (9720 731-3296.
Happy camping!

Copyright secured by Digiprove © 2015