Families with elementary-aged children, Scouts, and Norman Rockwell fans will enjoy a trip to the National Scouting Museum just east of the Dallas-Fort Worth airport in Irving, Texas.  This 50,000 square foot museum houses over 600,000 scouting artifacts from merit badges to Norman Rockwell paintings.
Scouting History. Scouting began in England with Lord Baden-Powell. A British army officer, he developed a training manual for his men that taught self-sufficiency skills –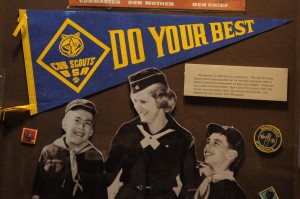 much along the lines of today's Bear Grylls. His army training manual caught on with young English lads and in 1908 he published Scouting for Boys. In 1910, the scouting movement crossed the Atlantic and the Boys Scouts of America (BSA) was formed. Today, about 3 million boys participate in BSA.  The National Scouting Museum chronicles scouting history with videos, artifacts and exhibits.
Hands on Exhibits. Children, even if they are not Cub Scouts, will enjoy Cub Scout Adventure World. A pinewood derby track let's you race against other museum visitors using derby cars donated by local Cub Scout packs. Another museum hit with the kids is Fort Fun, a laser shooting gallery designed in a Wild West motif.  Visitors receive a shooting gallery token with admission. Additional tokens can be purchased from a dispenser at Fort Fun.
Appealing to today's youth, the National Scouting Museum interactive exhibits include video game activities, too.  You can race each other in a motorcycle-based game powered by pedaling a bike in the GameBike area, or use your feet at the video dance game.  A pine scented camping area complete with storytelling campfire rounds out the exhibits for children.
Norman Rockwell. How does Norman Rockwell, the famed painter, figure into a scouting museum?  At age 19, Rockwell became the art editor for the BSA magazine, Boys' Life. The National Scouting Museum houses many of Rockwell's original paintings used in early Boys' Life covers. A cell phone audio tour of the gallery is available with a tour introduction by President George H. W. Bush. Works of American Realist painter and Boys' Life illustrator Joseph Csatari are also on display in the gallery.
When you go. The National Scouting Museum (1329 W Walnut Hill, Irving) is open seven days a week (closed for major holidays).  Admission is $8 for adults, $6 for children 4 – 12-years old, and $5 for scouts. Contact (972) 580-2476 for information on special Scout adventure programs offered at the museum.
Visitors' Tip: National Scouting Museum admission is free on Sundays and Mondays.