You don't have to travel to Texas Hill Country to find bluebonnets. Roadways and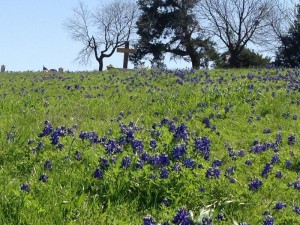 parks near Dallas offer plenty of springtime blooms including fields of bluebonnets! The Facebook page, Bluebonnet Love, is a great resource for finding bluebonnets in your area. My go-to places for local bluebonnets couldn't be more different: one is a park on the Southern Methodist University (SMU) campus and the other is an old pioneer cemetery.
In the Heart of the City
The best Dallas wildflower viewing may just be at SMU and the George W. Bush Presidential Center. A 15-acre urban park planted with native prairie grasses and wildflowers forms a semi-circle around the back of the Presidential Center. Not only will you find bluebonnets, but also dusty pink carpets of evening primrose, brilliant reds and yellows of firewheel, and magenta wine cup. Benches scattered around the garden make for an ideal spot to stop and enjoy the magnificent spring display.
The park is open sunrise to sunset. There is a fee for touring the Presidential Center, but entry to the attached park is free. The George W. Bush Presidential Center is at 2943 SMU Blvd, Dallas. For more information, contact the center at (214) 200-4300 or visit their website.
Half Forgotten Zion Cemetery
A hillside covered in bluebonnets is stunning. And that's what you'll see at Zion Cemetery – a hillside awash in blue. At the height of the season, this sleepy little cemetery becomes a parking lot with hundreds vying for that perfect snapshot of the kids in the flowers. I've even seen an industrious photographer lug a Victorian chaise lounge onto the hillside to capture just the right photo!
Alas, the pastures that once surrounded the cemetery are gone, making way for new housing developments. Still, this is a safe, off-the-road location to take a family photo in the flowers. Zion Cemetery is located on Farm to Market (FM) 423 between Eldorado Parkway and State Highway 380i in Little Elm.

Copyright secured by Digiprove © 2016