Strains of Glenn Miller's Moonlight Serenade softly compliment the evening's last light as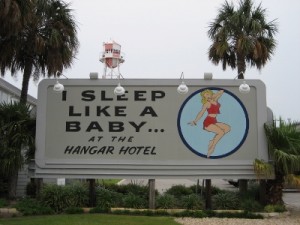 we sip cocktails on the veranda.  The sun appears as a glowing orange orb resting on the hilltops as a Cessna makes its landing approach on the airfield in front of us.  Now, Chattanooga Choo Choo entertains us with its upbeat melody.  Closing our eyes, we travel decades into the past.  Such is the mood set by a stay at the Hangar Hotel in Fredericksburg.
Officers' Club. Staying at the Hangar Hotel is like stepping back in time to a Bachelor Officer Quarters from World War II.  A converted hangar on the edge of Gillespie County Airport houses this elegantly simple hotel.  Large ceiling fans, antique switchboard, and palm trees greet guests as they check in.  Off the hotel lobby is the Officer's Club, open weekends.   Rooms are furnished in rusty reds, mossy greens and rich browns.  Weathered leather chairs, vintage style dresser and armoire furnish the room.  Every detail, from drapery pattern to reproduction phone, transports you back in time.  The black and white tiled bathroom completes the setting.  There is even a green, wool army blanket on the bed.  The room television is the only concession to the 21st century.
Details. The Hangar Hotel is located at 155 Airport Road, Fredericksburg. Room rates begin at $119 (weekdays) and $179 (weekends). The hotel offers senior (over 65) and military discounts.  To make a reservation, call (830) 997-9990 or visit the hotel website at hangarhotel.com.

Copyright secured by Digiprove © 2014