Snowbirds are on their way, flocking to Texas to escape northern winters. No, they are not the two-legged variety driving RV's. These feathered visitors arrive by wing. Hagerman National Wildlife Refuge, near the Texas and Oklahoma border, hosts up to 30,000 migratory birds October through February. Just west of Sherman, Hagerman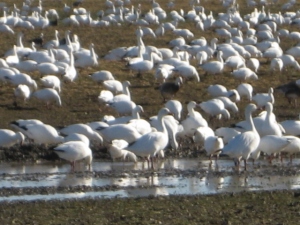 provides wetland habitat for thousands of Canada, snow and Ross geese each winter along with ducks, heron and songbirds.  Cormorant troll the waterways their long necks like submarine periscopes, great blue heron look like prehistoric pterodactyl against the sky, and thousands of snow geese honk a continuous serenade. In total, over 300 bird species call the refuge home. It's a veritable birder's paradise.
Hagerman National Wildlife Refuge offers a four-mile, self-guided auto tour. Ideal for birders with limited mobility, the driving route gets you up close to thousands of birds without ever leaving the car. The best part, your parked car serves as an effective birding blind!
Hagerman National Wildlife Refuge has recreational activities beyond birding. In addition to the driving route, the refuge has miles of hiking trails. You'll find additional bird species along with many local animals like armadillo, rabbit, fox squirrel and the occasional coyote, bobcat and feral pig. Trails cover a variety of habitat from prairie to marsh to woodland. The Meadow Pond trail is along an unpaved service road that is an easy hike for families with small children. Enjoy a packed lunch at one of the many picnic areas scattered throughout the refuge.
The area's history is as interesting as the migratory birds wintering at the refuge. Hagerman National Wildlife Refuge is named for a town now under Lake Texoma. Founded in 1904, Hagerman boasted 250 residents, church, school and cotton gin.  In 1943, the Army Corps of Engineers built Denison Dam. The dam submerged the town and created one of the largest man made reservoirs in the United States. Hagerman National Wildlife Refuge was established shortly thereafter in 1946 in the area near the former town site.
The refuge is unique in other ways, too. Among flocks of geese, you find oilrigs. The grasshopper-styled rigs date from 1951 when oil was discovered in nearby Big Mineral Creek. While the Army Corps of Engineers bought the land for the Denison Dam project, they failed to purchase the mineral rights. As a result, privately owned and operated oilrigs have removed millions of gallons of oil and natural gas from the refuge.
So pack your lunch and head out for a winter hike to Hagerman National Wildlife Refuge. Don't forget your binoculars and bird book!
Details. Hagerman National Wildlife Refuge is located at 6465 Refuge Road, Sherman. It is a day use facility open from sunrise to sunset. Visit the Friends of Hagerman website for information on free tours and talks at the refuge.
Update: Unlike past years, only about 3,000 snow geese are at the refuge this winter (2014). The refuge is still a fabulous place for bird watching. 

Copyright secured by Digiprove © 2014-2015