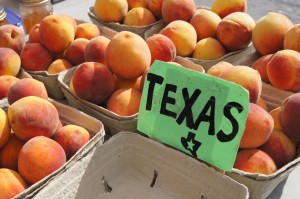 Always a great place to visit, Main Street in Grapevine is even better early on Saturday morning. April through October, you'll find two open air markets just as you enter the historic district from Northwest Highway.
Grapevine Market
Situated in Liberty Park (299 South Main), Grapevine Market is an eclectic mix of crafts and collectables. If you are looking for a handcrafted gift, you might just find it here. There are vendors selling jewelry made with fused glass, hand turned wood vases and bowls, quilted kitchen items, crocheted shawls, and much more. Parking is free. The market is open Thursday and Saturday from 9 a.m. to 1 p.m.
Grapevine Farmers Market
Just a little further on Main Street, is the Grapevine Farmers Market at 325 South Main. A dozen vendors sell everything from fresh fruits and vegetables to treats for your dog. There are all sorts of canned goodies from jams to salsa, and even fresh tamales. The market is not large, but the variety of vendors makes it worth the trip. Produced under the Grapevine Farmers Market label, you can purchase many of the canned products also at Texas Belles and Beaus (409 South Main). The Grapevine Farmers Market is open Thursday through Saturday, 8 a.m. to 4 p.m.
Grapevine Shopping
Finish out your Saturday morning shopping at the boutiques and specialty stores on Main. Every foodie should visit the Spice and Tea Exchange (319 South Main). Not only do they sell exceptional bulk tea, but also have 17 different types of sugar and 30 different types of pepper. It's awesome! The Corner Store (401 South Main) is a collection of vendors with small stalls – just what you need for some joyful junking. If you're a fashionable cowgirl, check out Coyote Cowboy (417 South Main). Beyond the Red Door (419 South Main) is a cute little boutique, and Little Orange Fish (601 South Main) carries a unique collection of children's clothes and toys.
Enjoy your Saturday morning in Grapevine!