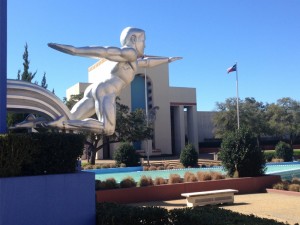 Fair Park is one of Dallas' most beautiful locations and also one of its most overlooked. If you are like most Dallas residents, you visit Fair Park only once a year during the Texas State Fair. Yet this 227-acre park is open year round. On a sunny day, I find the art and architectural at Fair Park simply breathtaking.
Art Deco Nirvana
The site of the 1936 Texas Centennial and World's Fair, Fair Park retains many of its historical Art Deco buildings. The park purports to have the largest collection of Art Deco buildings, art, and sculpture – I believe them.
The Esplanade
The area surrounding the Esplanade showcase stunning Art Deco examples. Massive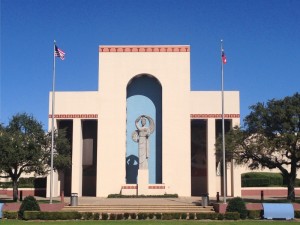 porticos at the Automobile Building and Centennial Hall frame six statues. Each statue represents a nation who, at one time, controlled Texas. Designed by Carlo Ciampaglia (Centennial Hall) and Pierre Bourdelle (Automobile Building), the statues bear the classical look of Greek goddesses.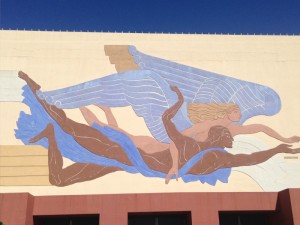 Reliefs on Centennial Hall continue the mythological theme and mix seamlessly with the modernistic murals of industry at the Automobile Building. Recently recreated fountain statues of The Tenor and The Contralto, add another exciting note to the whole Art Deco immersion.
Fair Park cell phone tour
You won't find much in the way of descriptive placards around any of this fabulous art and architecture. Thankfully, there is a self-guided, cell phone tour available to provide details about art and artists. To access the tour, dial (214) 736-2913 and then follow the phone instructions.
Worth the look
While at Fair Park, be sure to visit the Hall of State and the African American Museum. Both attractions are free.
When you go.
Fair Park is at 1200 Second Avenue, in Dallas. Gate 3 provides parking closest to the Esplanade. Entry to Fair Park (and parking) is free except during the State Fair. You can also get to Fair Park using DART (Dallas Area Rapid Transit) – take the green line to the Fair Park station.

Copyright secured by Digiprove © 2016