You can still buy fresh produce at the Dallas Farmers Market as it undergoes its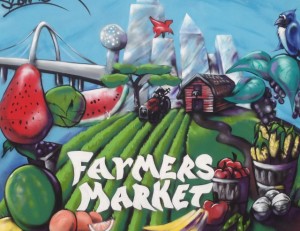 transformation. And while you're shopping, stop in at Ruibal's for your spring plants and flowers. Finish your outing with lunch at Pecan Lodge.
Times Are Changing
Operated since 1941 by the City of Dallas, the farmers market recently sold to DF Market Holdings. According to the Dallas Morning News, the private company will invest over $64 million to renovate the area for mixed use to include retail, apartments, restaurants, and a fresh produce market. Redevelopment is already underway, with Dallas Farmers Market Shed 1 demolished, refurbished, and now open for business.
Market Shed 1
With a new roof and floor, Market Shed 1 houses a much smaller farmers market. You'll still find half a dozen produce vendors. The produce prices for fresh fruits and vegetables rival what I pay at the grocery store. Unfortunately, not all the items are local.
In addition to produce, we found local honey, fresh eggs, a pickle vendor specializing in Texas BBQ pickles, artisan cheese from Waco, and the standard jams and jellies. There was even a vendor with massive bones and other treats for your four-legged, dog-friends.
A small number of crafers have stalls in the shed. Yumscents sells soaps, scents, and handcrafted shaving kits (Yumscents lavender eye pillows are a steal at $7.95). Finally, a few food vendors sell breakfast burritos, tamales, and roasted corn.
Expect to see additional vendors as spring moves into summer, and more local farmers set up shop.
Ruibal's Plants of Texas
Michael Ruibal began selling plants out of a truck at the Dallas Farmers Market in 1984. Now he operates four nurseries in the Dallas area. His market location is kitty corner to Shed 1. Ruibal's boasts a vast variety of plants. Colorful annuals, perennials, garden pots, shrubs, and even trees are available at the fully stocked nursery that covers two city blocks. A visit to Ruibal's is a must for anyone getting ready to plant their spring garden.
Pecan Lodge
Alas, Pecan Lodge no longer fills the market air with the sweet smell from its smokehouse. Pecan Lodge, named by D Magazine in 2010 as Dallas' best new restaurant, and THE place for BBQ, has moved. While Pecan Lodge now has its own restaurant location in Deep Elum, it's still within a mile of the Dallas Farmers Market. Shop the market in the morning and take a walk over to Pecan Lodge for lunch.
When you go
The Dallas Farmers Market (1010 South Pearl Expressway, Dallas) is open Friday and Sunday from 10 a.m. until 3 p.m.; and Saturday from 8 a.m. to 5 p.m. Parking is free and plentiful. Ruibal's Plants of Texas (601 South Pearl Expressway, Dallas) is open daily from 8 a.m. to 6 p.m. And Pecan Lodge (2702 Main Street, Dallas) is open from 11 a.m. to 3 p.m. on Sunday, Tuesday, Wednesday and Thursday; and from 3 to 10 p.m. on Friday and Saturday.

Copyright secured by Digiprove © 2015