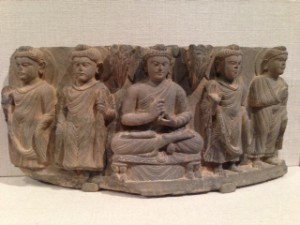 Within the Dallas area, several private collections have evolved into museums. The Crow Collection of Asian Art, located in the heart of the Dallas Arts District, is one such museum. This small, free museum is ideal for a Sunday afternoon visit.
You won't find oil paintings here. What you will find is an eclectic mix of new and ancient Asian art.
Contemporary art
Current exhibits showcase modern Asian expression. Located in the downstairs gallery, Alexander Gorlizki's Variable Dimensions creates a playful mix of Indian-inspired art. Gorlizki's work ranges from vibrant textiles to whimsical sculpture.
In the upstairs gallery, you'll find Inclusions by Jean Shin. Inclusions is also a mixed-medium exhibit with an intriguing tree sculpture made from silverware and a meditative video installation. Inclusions is on display through December, and Variable Dimensions runs through March 2016.
Ancient Asian art
While the modern exhibits are fun, I keep coming back to the Crow for its permanent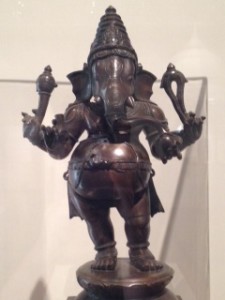 collection of ancient Asian art. A stone Buddha head welcomes visitors to an upstairs display of jade pieces. The gallery of intricately carved stone sets the tone for a quiet, contemplative visit.  A window walkway connects the jade section to the west gallery. My family loves strolling through this corridor hung with a thousand cranes. Folklore links folding a thousand cranes to eternal good fortune. I'm always hopeful a little of that luck will rub off as we walk under the origami birds.
The west gallery houses the museum's larger pieces, like the palace façade from northern India, a life-sized painted horse, and almost-life-sized elephant. Throughout the room you'll find Jain, Buddhist, and Hindu artifacts.
Outdoor sculpture garden
You have to go outside to see the other half of the Crow Collection, namely the outdoor sculpture garden. There is an old Japanese temple bell from the Edo period, but most of the outdoor sculptures are contemporary. They are set within a carefully constructed Japanese-styled garden skillfully wrapped around the Trammel Crow Center office complex. It's wonderful just to sit and relax at one of the many tables set up on a concrete patio.
More than art
The Crow takes the Asian experience beyond art. You'll find Eastern wellness practices highlighted at the Crow. Well-suited for adults and teens, the Crow hosts Qigong Tuesday evening, Yoga Thursday evening, Tai Chi Saturday morning, and meditation Sunday afternoons. The Crow participates in the Dallas Arts District's First Saturday, hosting a whole morning of family friendly activities the first Saturday of most months.
When you go. The museum and garden are free. The Crow Collection of Asian Art (2010 Flora Street, Dallas) is open Tuesday to Thursday from 10 a.m. to 9 p.m.; Friday and Saturday from 10 a.m. to 6 p.m.; and Sunday from noon to 6 p.m. Parking is available at paid lots and garages within the Dallas Arts District. Klyde Warren Park is a short walk from the Crow. The Nasher Sculpture Center and DMA are also nearby.

Copyright secured by Digiprove © 2015