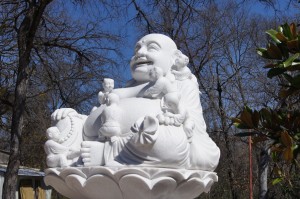 Like most of America, North Texas is a melting pot of culture and diverse ethnic groups.  Over 20,000 Vietnamese Americans call the Dallas/Fort Worth Metroplex home.  It's no surprise, then, to also find Vietnamese Buddhist temples throughout the area.  Chua Dao Quang is one such Buddhist temple complex.
You don't need to be Buddhist to visit the temple and grounds.  Visitors are welcome.  And you don't need to be Buddhist to engage in mindful contemplation.  Concrete benches litter Chua Dao Quang pathways.  Throughout the grounds, you'll find several shrines with Buddha depicted in various forms.
There is a happy, smiling Buddha shrine.  This fat and bald Buddha is actually a depiction of a tenth century monk, Bodai, respected for his happy contentment and open heartedness.  Some Buddhist traditions consider him the 'future' Buddha.  There is another shrine with a reclining Buddha, symbolic of enlightenment; and, in the middle of a pond, a standing Buddha.  A beautiful stone panel relief depicts Buddha's life.
At each of the shrine, you'll find offerings of incense, flowers and fruit.  On the day of our visit, neatly piled, mountains of fresh oranges graced many of the shrines.
The Buddha Dharma Education Association ascribes the following meanings to shrine offerings:  incense reminds us to cultivate good conduct; flowers reminds that all things are impermanent; fruit symbolizes the ultimate goal of enlightenment; and light (a candle) symbolizes wisdom and dispelling darkness.  Just outside the main entrance to the temple, you'll find a table laden with vases and a barrel of water should you choose to bring a flower offering.
Visitors may also enter the temple, but please first remove your shoes.  And, like all places of worship, be respectful (e.g., ask permission before taking pictures, etc.).
Chua Dao Quang is located at 3522 North Garland Avenue, Garland.  Temple grounds are open daily until 10 p.m.