ZimSculpt, a collection of over a hundred Zimbabwean stone sculptures, is on display within the Dallas Arboretum, now through July.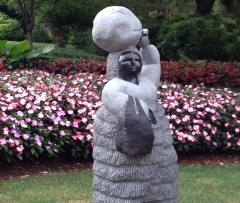 I first glimpsed the sculptures while attending an arboretum concert. I knew I had to return to see them all! The garden, with its backdrop of brilliantly colored flowerbeds and greenery, frame the stone sculptures perfectly, much like a gilded frame showcases a painted canvas.
The garden sculptures range in height from three to seven feet. The artwork is carved from serpentine and semi-precious stone. In many of the garden pieces, the sculpture seems to emerge from within the stone.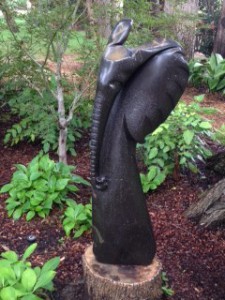 I love the fluidity of the lines and liquid smoothness of the art. Other sculptures mix the textures of rough stone with glossy sculpture. All have a simplistic beauty about them.
Shona sculpture
The tradition of Zimbabwean sculpture dates back to the Shona tribe and the eleventh century. ZimSculpt is a modern version of the ancient Shona sculptures. The renaissance in Zimbabwean sculpture began in the 1960s and continues today. Thematically you'll find animals, mother and child depictions, and women, along with a few abstract pieces.
All of the pieces in the garden are available for purchase at prices ranging from one to twelve thousand dollars. There is also a ZimSculpt Marketplace where you can purchase more affordable pieces and also watch the artists at work.
Beat the heat
This time of year, it's tough to beat the Texas heat. To avoid wilting in the sweltering temperatures, visit the arboretum when it first opens at 9 am. It is as much fun to pack a picnic breakfast as to sweat over a picnic lunch. Even better yet, Dallas Arboretum members can enjoy a 'members only' early morning on Saturdays from 7 to 9 am. Arboretum colors are at their height during the garden's springtime Dallas Blooms. That said, I was pleasantly surprised at the variety of flowers currently in bloom, even in the summer heat. You'll find flower beds loaded with color from sunpatiens, winecup, mrytle, and cone flower.
Details
The Dallas Arboretum is at 8525 Garland Road, Dallas. The gardens are open 9 to 5 pm daily (until 8 pm on Wednesdays). ZimSculpt is on display until July 31. Adult admission is $15. On Wednesdays, you can buy one adult admission and get one admission free. Guided ZimSculpt tours are offered without additional charge on Thursdays, Saturdays, and Sundays.