Allen's Community Theater (ACT) is a gem tucked away in a nondescript strip mall. Located in far west Allen, ACT's outside façade hides a delightful little theater. It's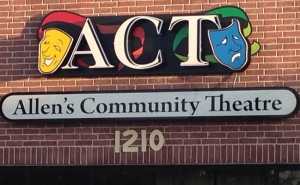 community theater at its best with reasonably priced tickets and well-done performances.
Blithe Spirit
ACT's current production, Blithe Spirit, is a good old-fashioned English drawing room farce. The Noel Coward play pokes fun at death and marriage. Set in 1940's England, the play centers around an author, his first wife (a ghost), and his current wife. It's a night of laughs when the bungling medium, Madame Arcati, is thrown into the mix of characters. My entire family, including my teenage son, thoroughly enjoyed the play. However, go forewarned, Blithe Spirit is a three-hour play, with two intermissions. Blithe Spirit runs through May 15.
ACT has two more plays scheduled for its 2015 – 2016 season. The Superhero Ultraferno runs July 8 – 17; and The Magical Land of Oz runs August 12 – 28. My family is looking forward to both plays.
When you go.
You can order tickets to ACT's performances online at their website. They accept payment by credit card and PayPal. This is community theater, so don't expect a fancy venue. That said, I was impressed by the quality of the acting and stage craft of the production. You can buy refreshments (including a glass of wine) to take into the theater. Refreshments are by donation (so be generous). Allen's Community Theater is located at 1210 E Main Street, Suite 300 in Allen.

Copyright secured by Digiprove © 2016