The African American Museum is a Fair Park treasure. Unlike many of the Fair Park buildings, the museum is not an art deco building, but a newer structure built in the 1980s.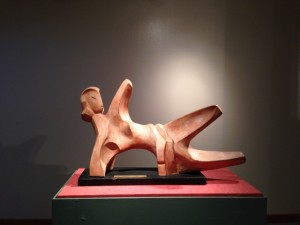 Light, airy, and spacious, the building's grand foyer sets the mood. Galleries branch off from the foyer on two levels. Said to be one of the finest in the nation, the ground floor houses an extensive folk art collection.
Special Exhibits
The museum features African American artists. During a recent visit, I enjoyed the gallery featuring Maryland-based, LaToya M Hobbs. Working in a mixed medium of printmaking, acrylic, and collage, Hobbs' larger than life art is expressive and beautiful. "My work is an investigation of the point where the notions of race, identity, and beauty intersect concerning women of African descent," writes the artist. The Hobbs' exhibit will be at the African American Museum through April 30, 2015.
Freedman's Cemetery
The real gem of the museum is its Facing the Rising Sun exhibit. I was at first skeptical about an exhibit centered on the archeological excavation of a cemetery. From about the 1850s through early twentieth century, much of the Dallas African American community lived north. Just outside Dallas city limits, the area became known as Freedman Town (about where Uptown Dallas is today). Freedman Cemetery was the burial site for the town. The cemetery fell out of use only to be rediscovered in the 1990s during an Interstate 75 expansion project.
Facing the Rising Sun is so much more than just a display of cemetery artifacts. Throughout the exhibit, you'll find kiosks with monitors. At each kiosk, you can pick topics, like schools, to learn about life for African Americans living in the Dallas area. Learn about Tom Thumb weddings, African American social clubs, and Sunday afternoon teas. It's a cornucopia of culture from about 1890 through the 1950.
Sculpture Garden
A small, sculpture garden surrounds the museum. The Bottle Tree, made of metal and glass, anchors the outdoor sculptures. The Bottle Tree is the work of students from the Patsy Eldridge of Booker T. Washington High School for the Performing and Visual Arts.
When you go
The African American Museum is located in Fair Park at 3536 Grand Avenue, Dallas. The museum is free, though there is a charge for groups of 20 people or more. The museum is open Tuesday to Friday from 11 a.m. to 5 p.m.; Saturday from 10 a.m. to 5 p.m.; and Sunday from 1 to 5 p.m. For more information, contact the museum at (214) 565-9026 or visit their website at aamdallas.org

Copyright secured by Digiprove © 2015