On sunny days this time of year, you'll likely notice butterflies along North Texas roadways. This is the annual Fall migration of North American Monarch butterflies on their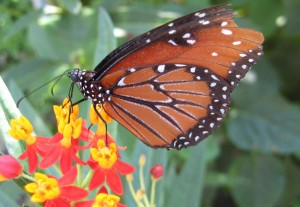 way to warmer climes in the Oyamel fir trees in central Mexico. Unlike migrating birds, the Monarchs are not returning to a wintering ground. They are making the journey for the first and only time. Monarchs born in late summer have a life span of seven to nine months. That's long enough to journey south, winter over, and then begin the journey back north. In early spring, this generation of Monarchs will make it as far as south Texas to lay eggs in milkweed. The Monarchs born in spring and summer continue their northward journey to Minnesota and other northern states. But unlike their parents and grandparents, the summer Monarchs live only two to eight weeks.  That means the Monarchs you see next Fall will be the great-great grandchildren of the ones you see today!
For more information on the great Monarch migration, check the Monarch Watch and Monarch Butterfly USA websites.