What do Stonehenge, Easter Island, and Texas Hill Country have in common? A visit to Hill Country Arts Foundation in Ingram, Texas, solves that mystery.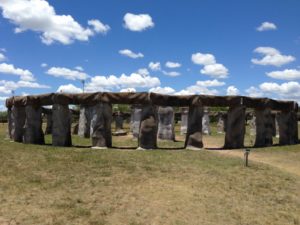 There you'll find a Stonehenge and two Easter Island Moai head replicas. The structures are the work of two Hill Country residents, Al Shepperd and Doug Hill.
Stonehenge II and Moai heads
Neighbors, the two men hatched the plan to build a Stonehenge replica in 1989. Using steel frames, plaster and metal mesh, they built a scaled version (about 90 percent the height and 60 percent the width) of the famous Stonehenge circle on Shepperd's ranch. It took them just nine months to construct the monument. A few years later they fabricated two Moai heads following a trip Shepperd made to Easter Island. For years, tourists flocked to Hunt to see the oddities.
Current location
Stonehenge II and the Moai heads found a new home in 2010 on the grounds of the Hill Country Arts Foundation in Ingram. I have to say, this location is perfect. The Moai heads flank a dirt pathway leading through a meadow to Stonehenge II.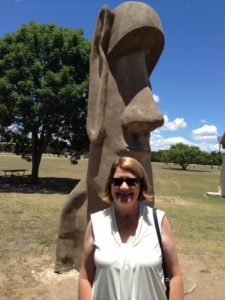 It's a bucolic spot, with the Guadalupe River just off to the left.
Admission to the site is free, but the photographic opportunity is priceless.
Encore
I recommend you visit Stonehenge II about lunchtime. Why? Co-located on the art foundation property is a delightful little restaurant, Encore. The restaurant offers home-style lunches six days a week (closed Mondays). The restaurant has an outdoor deck that overlooks the Guadalupe River. We lunched there during our visit and were pleasantly surprised by the freshness of the cuisine and friendliness of the service. They also proffer an amazing selection of craft beers.
Blue Topaz
If you're in the market for unique, fine jewelry, you'll find it in Ingram. Just down the road from Stonehenge II is Gems of Hill Country. The jeweler Diane Eames and her partner Brad Hodges offer lone star cut (that's the cut with the embedded five-pointed Texas star), blue topaz jewelry. Blue topaz is the official state gem of Texas and found only in the Mason area. The stone is usually clear, but you can also find blue variations. The more intense the blue, the more valuable the stone. Eames is a true artist. The stones she cuts are breathtakingly beautiful. Prices begin in the $200 range and go up from there.
When you go
Stonehenge II (120 Point Theatre Road South, Ingram) is in a field. As such, it's accessible seven days a week. Encore (122 Point Theatre Road South, Ingram) is open for lunch 11 am to 2 pm Tuesdays through Sundays. And Gems of the Hill Country (200 Highway 39, Ingram) is open by appointment (phone (830)-367-3368).