Dubbed Pumpkin Capital USA, Floydada farmers grow over 15 million pumpkins each year. To celebrate the bountiful harvest, Floydada hosts Punkin Days the second weekend in October.
Did you miss Punkin Days?  Never fear, you can still see 65,000 Flyodada pumpkins and assorted squash at the Dallas Arboretum.
Fall colors.  Autumn is ideal for exploring the arboretum. During the seasonal, Autumn at the Arboretum, pumpkins line the walkways,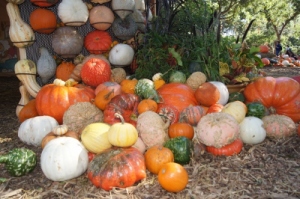 hay bales anchor 10-foot tall arrangements of plants and squash, and mums burst with color in the floor beds.  Who knew, squash came in so many different shapes and colors.
Pumpkin Village. Be sure to check out Pumpkin Village, a series of storybook cottages with pumpkin facades.  I've never seen so many pumpkins in one place before. Designed after pumpkin-themed children's stories, kids love exploring each of the playhouses. And of course, there is Cinderella's carriage pulled by straw horses! On the outskirts of Pumpkin Village, you'll find more hay bales, this time outlining a two-foot high maze, ideal for the littlest of explorers.
Especially for kids. During Mom and Me Mondays, and Tiny Tot Tuesdays, Pumpkin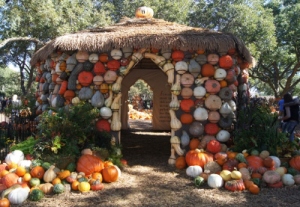 Village rocks!  In addition to exploring the storybook cottages, youngsters can feed goats at the petting zoo, get their faces painted, and participate in Kindermusik activities.
Details:  Autumn at the Arboretum runs September 20 through November 26.  Mom and Me Monday and Tiny Tot Tuesday activities are held 10 a.m. to 4 p.m. The Dallas arboretum is located at 8525 Garland Road, Dallas.  The Dallas Arboretum is open daily 9 a.m. to 5 p.m.