Rockport is a picturesque seaside town with quaint downtown shops and a working port filled with fishing boats. But the area's biggest attraction is not a place – it's a past time – birding.
Rockport provides seasonal respite to migratory birds including the regal whooping crane.  The largest North American bird, the whooping crane stands nearly five-foot, mates for life, and has fought its way back from the brink of extinction.
The Whooping Crane – Aransas National Wildlife Refuge
Numbering just 16 wild whooping cranes in 1941, the bird faced extinction.  Extensive species management including captive breeding programs brought the bird back from the brink, though its numbers are still limited (about 250 wild and an equal number in managed breeding programs).  The only natural wild flock of whooping crane winter in and around Aransas National Wildlife Refuge.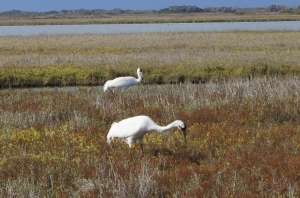 The best way to view the birds is by boat. Tours operate from Fulton Harbor, taking bird enthusiasts through bays, along the refuge's shoreline and to Matagorda Island.   In addition to whooping crane, you'll see osprey, heron, pelican, ibis, cormorant and shore birds. For an exceptional birding experience, try an outing on the Skimmer skippered by Tommy Moore. Moore knows his birds and their favorite places to 'hang-out.'
Rockport – Shopping, Aquarium, and Science on a Sphere
Downtown Rockport sports a surprising number of art galleries, antique shops and boutiques. If you are looking for a unique wedding ring or anniversary gift, check out Sazon Studio and Galleries where artist Ruben Villareal-Aiken handcrafts jewelry inspired by his muse, the whooping crane. The gift shop 4 the Birds is your go-to spot to get the latest information on area bird watching, and the store houses nature photographer Diane Loyd's Salt Flats Gallery.
The Aquarium at Rockport Harbor has a collection of native fish. This small aquarium is fun for all ages. Be sure to take time to chat with the aquarium volunteers, and say hello to the star attraction Marley, a leopard eel.  The aquarium is open Thursday – Monday from 1 p.m. to 4 p.m.
Also at Rockport Harbor, you'll find the Bay Education Center. In addition to its estuary exhibit, the Bay Education Center houses a Science on a Sphere theater. This unique system, developed and fielded by the National Oceanographic and Atmospheric Administration, projects films about earth science onto a suspended sphere instead of movie screen. Bay Education Center is one of just 50 U.S. facilities to host Science on a Sphere. Films are Tuesday – Saturday at 2 p.m. and 3 p.m.
Admission to the Aquarium at Rockport Harbor and Bay Education Center is free.
Lodging and Dining in Rockport
Miss Kitty's Fishing Getaways and Vacation Rental by Owner are two online sites for a list of vacation property rentals available in the Rockport area. For a more traditional hotel experience, highly recommend the Lighthouse Inn at Fulton Harbor. The well-run hotel is affordable and ideally situated with bay view rooms.
Restaurants are peppered throughout the area. For a funky, no-frills seafood boil dinner, try the Boiling Pot; Latitude 28 02 offers fine dining in a beautiful art gallery setting; and Moon Dog has oysters and a view of the bay.